Getting Started
Registering
In order to get the most out of WOT, you should register.
After you register, you will gain access to our full range of features.

Some features are:

The ability to write comments on a website scorecard.
Having a customizable profile of your own.
Having a wall of your own below your profile.
Accumulation of Activity scores.
Unlocking the function to participate in the WOT Wiki.
This is why you should register now!
Customize Settings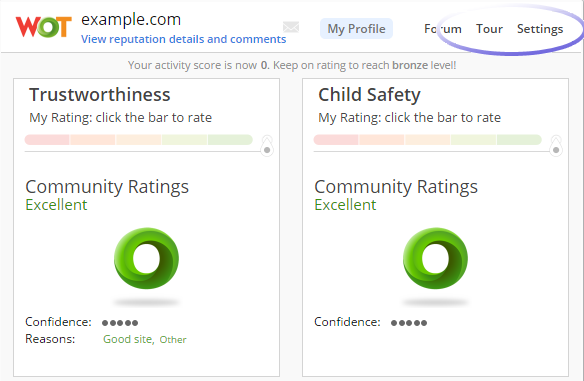 You can personalize WOT's web browsing security to suit your way of surfing.
Access Settings by opening the add-on and clicking in the top right corner. By popular demand, there are different types of made-ready settings. One unique feature of WOT is that there is a colourblind version to add support for those who cannot readily distinguish the various colours on the rating bars.
Videos
To see videos on all the above mentioned functions or features, check out WOT's YouTube Channel!