WOT Mobile
There have been many requests asking for a WOT app. While the WOT developers have said they have no plans to create a WOT app at this time (reference) there are a few ways you can have WOT ratings at your finger tips!
Update: WOT recently released a mobile app for Android®
Official WOT App
A new official WOT application is now available for Google Play, titled WOT Mobile Security.
Available for: Android® 3.0 or higher.
Available at: https://www.mywot.com/mobile-app or directly from Google Play at https://play.google.com/store/apps/details?id=com.my.wot
Tap&Trust Browser
This browser is compatible with search engines and the myWOT.com webpage. Available for: Android® sdk version Honeycomb - 3.0 (API level 11); compile sdk version Marshmallow - 6.0 (API level 23). Created by WOT member: Matiks. Forum. Available at: tapandtrust.co.uk and and soon Google Play.
App add-ons
WOT Member-created
Available for: Android®. Created by: Matiks. Forum. Available at: it-mate.co.uk and Google Play
Coast by Opera

Available for: iPad with Apple iOS 6.0 or later (Safari running on iOS7 has no WOT add-on). Available on iTunes. Blog post.
Dolphin Browser® add-ons
Available for:
Android® Phone and Android® Pad
There currently are no known Dolphin browser add-ons that incorporate WOT for Apple. If you find any, please announce them on the forum
First, download: Dolphin Browser®
Once the Dolphin browser is installed, one or both of the following add-ons may be added by simply swiping to the Right SideBar and select the add-on you wish to use: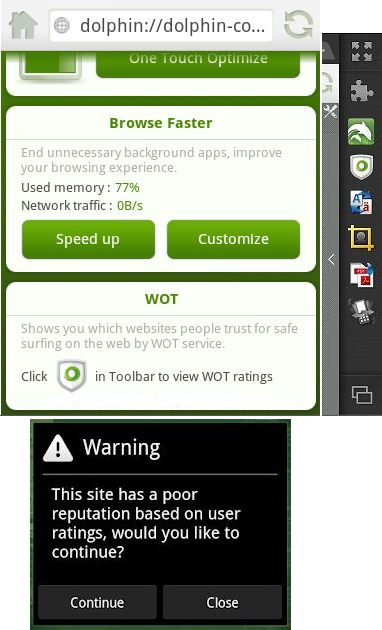 Dolphin Battery Saver. It is promoted as a battery saving app but it also has a Security manager to help protect your browsing security. It will give a warning when you come across untrusted websites which have low WOT ratings. It will also show you the security info (WOT ratings) of each page. Available at: Dolphin Battery Saver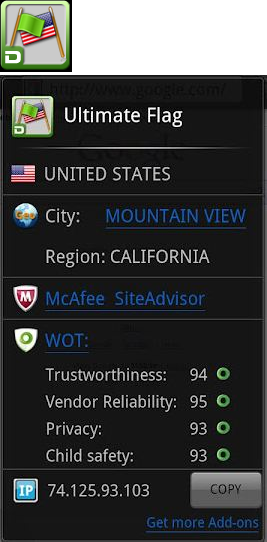 Ultimate Flag. It shows the security index of a website from both WOT and McAfee SiteAdvisor, as well as the countries and regions of the site. It also shows you the website's IP address and allows you to easily copy the IP address. Availabe at: Ultimate Flag and Google Play
Bookmarklet
Available for: Apple IPad. Download the bookmarklet provided by WOT, then configure it to run in Safari

.
Search engine
Available for: Android or iOS8 (currently in beta)

. After installing the DuckDuckGo app, go to the settings page. At the bottom you'll find WOT icons which you can turn On.
Mobile browsers compatible with myWOT.com webpage
The following mobile browsers allow login to myWOT.com, show proper page layout, and display scorecard buttons. However, these browsers do not have a WOT add-on.
Opera Mobile version 12.1 (not version 15+) for Android 1.6+. Version 12.1 is not available from the Google Play store; but is available at the Opera site.
Questions
If you have any questions, please feel free to post in the WOT forum discussion:
WOT alternatives for mobile browsers