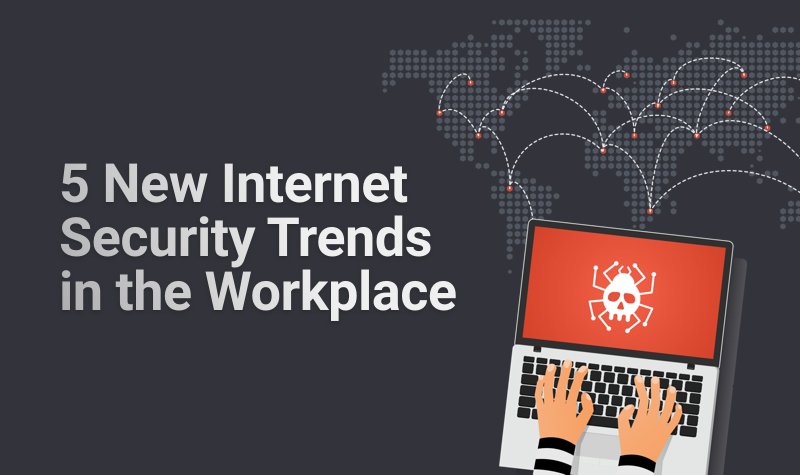 Cyber security has always been a challenge over the years and it was no different in 2018. With data breaches reported from Facebook to Under Armour and ransomware still remaining a huge threat, 2019 is the year to make sure proper measures are taken in order to handle the widespread concerns regarding cyber security. For example,  In the workplace, It is becoming really important to increase the number of security experts to overcome these concerns and proper quality training needs to be given to them.
However, It's not just the data privacy rights or net neutrality that needs attention; a complete shift of focus to internet security is alarming. An additional step in cyber and email security will make a positive difference in the overall productivity of enterprises in the long run.
Let's take a look at the top 5 emerging trends in cyber security for 2019 and beyond.
Shadow IT applications
Shadow IT is the use of IT related hardware or software for security within an organization. It can encompass cloud services, software and hardware and brings with it making concerns in the world of Internet security.
The growth of shadow IT has accelerated with the consumerization of information technology. Users have become comfortable downloading and using apps and services from the cloud to assist them in their work.
However, Forbes recently predicted that shadow IT applications are going to cause serious damage in the next few years and that by 2020 one third of successful cyber attacks will occur as a result of these applications.
Ransomware
In 2018, a report showed that 56% of decision makers from IT and risk, fraud or compliance functions reported that their organisation suffered a ransomware attack, compare to 48% in 2016.
From those attacks, 69% said that the ransomware attacker was able to gain access to their organisation's network by phishing via email or social media network. 44% stated  that access was gained by a drive-by-download caused by clicking on a compromised website and 42% claimed that their computers were infected with virus' that was part of a botnet.
This year showed that the types of devices/systems that are most likely to be impacted by the ransomware attacks are:
80% – Desktop PC's
57% – Servers
38% – Mobile Devices
The most common cause for these attacks in the workplace comes down to companies lagging behind on security updates for their on-premises applications. Additionally, ransomware pays, hackers have earned over $5.9 million so far…
Ransomware is easily transmitted via an email phishing scam which spreads the types of malware that locks down computers. It's an issue that seems to be on the rise and a trend for 2019 so make sure your security is up to date, as soon as possible.
Turnkey Software
Online threats stem from single-users, applications, hardware and the internet itself. Just spotting the breach in a dispersed network of multiple components and capabilities is challenging. Many enterprise organizations will continue to invest in turnkey software integrations that continually automate monitoring and mitigation of cyber threats.
These proactive systems will help organizations analyze the event, isolate it, find the breach and seal it. Strategies such as log analysis and endpoint detection and response (EDR) tools will allow security personnel to pinpoint where and when an attack happened, and will also help prevent similar attacks from happening.
Artificial Intelligence
While AI has been around for a while now, it appears that we have failed to commercialize it as a product. Security trends of the future show AI are poised to help forecast, classify and potentially block or mitigate cyber threats.
One of the building blocks of AI – machine learning – is now incorporated regularly into security applications and the next step is full-on AI. Machine will battle machine in an automated, ever-learning response cycle that happens faster than an eye-blink at machine, not human speeds.
We predict that a new 'space race' is emerging in 2019 and that race, is AI in cyberspace.
Cyber Terror
This year it became apparent that governments have likely been engaging in cyber terrorism for years and years. Difference is, today the level of attack and the obsession with all things digital means that today, cyberattacks are politically motivated and often extend beyond data seeking motives.
These types of cyber attacks are well coordinated, well funded and can be potentially devastating and seem to be on the rice. They are used to influence voter opinion and to infiltrate voting machines which are often cloud-connected.
Going into 2019, shows that our increasing dependence on the internet for everything means new and evolving methods need to be put in place in the workplace. Business owners will need to understand their online threats and plan for them accordingly in order to be protected and to mitigate risk.
There are many tools available online to help businesses take stronger steps in protecting themselves and raise security awareness. These tools can be everything from better password protection to CDN and safe web searching and browsing. It's a good idea to make sure your online security is at the heart of your plans for next year in order to avoid threats that could potentially harm your business.