The internet has become so ingrained into our everyday lives that it can sometimes be easy to forget what exists on the internet beyond our everyday Google searches, social media checks, article reads and more. It's very necessary to remember that there is unlimited content and unfiltered access to all corners of the world wide web, for everyone. As adults, we can usually understand the difference between safe and unsafe content as well as appropriate and inappropriate content. However, the children and teenagers in our lives have a harder time understanding those differences and the dangers associated.
Seeing inappropriate content at a young age can leave a child feeling confused, uncomfortable, and often they are unable to process what they have just seen. It's important to explain internet safety to the young ones in our lives, to provide a safe space for discussion, and be as proactive as possible in limiting harmful, inappropriate content from appearing on their screens.
Block inappropriate content
You can limit the chances of exposure to inappropriate content by setting up parental controls, like WOT's Adult Protection feature. With this feature, you can ensure that all adult-only content, or any content suited for those 18+ will be automatically blocked by WOT. This feature  also displays an 18+ icon next to sites with content that could be inappropriate for those under 18.
Additionally, social platforms like YouTube have 'Restricted Mode' which makes sure that videos with potential adult content won't be shown to viewers who have the mode turned on.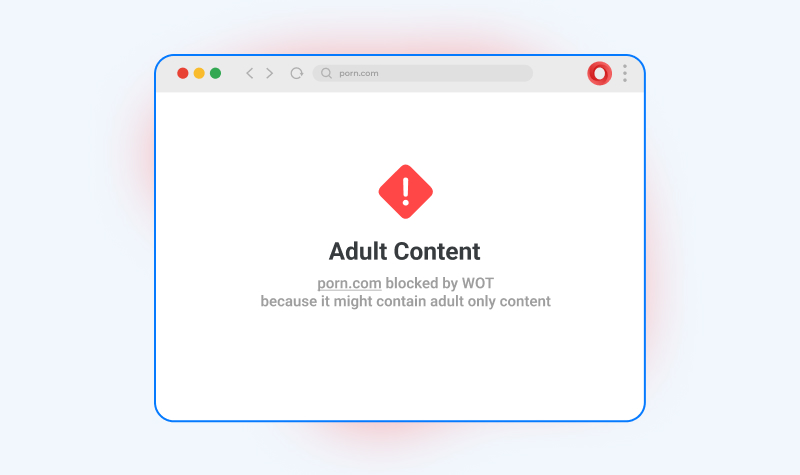 Report inappropriate and dangerous content
In keeping the young ones in your life safe online, it's important to report any inappropriate content that truly crosses a line and should be taken offline. If your child sees bullying comments online, whether on social media or within various forums, show them how to report that content and the profile of the person who wrote it. The Internet Watch Foundation and True Vision are great sources to report inappropriate and dangerous content.
Talk about it
Unfortunately, over 55% of kids between the ages of 10-12 have been exposed to vulgar or violent content on the internet, which includes explicit words or images. And almost 60% of teenagers have personally experienced cyber bullying. These statistics are incredibly hard to come to terms with, but they are important to remember when the young ones in our lives start their internet experience with their first smartphone, tablet, or computer. 
If your child or the young person in your life has seen inappropriate content that made them feel uncomfortable and they came to you to talk about it, it's important to reassure them that they can always come to you if it happens again and if they've seen something online that has troubled them. What's equally important is to be honest with them about what they saw. If it was adult content, explain that there are some things online that are meant for just adult eyes. If it was cyber bullying, or something along the lines, assure them that they are absolutely doing the right thing by coming to an adult for help.
The internet brings a lot of good with it. But we would all be naïve to not acknowledge or discuss the dangers it has as well. WOT is here to help keep you and your internet experiences safe at all times.