Can you believe that we are almost in Summer 2022? Spring truly sprung and flew by faster than we're comfortable to admit. With that being said we are looking towards the summer with open arms, open skies, and lots of safe travel and adventure. We're switching out spring allergies for summer travel.
It's not lost on anyone that the last few summers have been challenging to say the least. And while we still navigate this new world, we have started to see restrictions easing up and people activating their travel bug. In fact, traveling this summer is in such high demand that The U.S. Travel Association expects Americans to spend $95 billion on travel this summer, with 6 in 10 Americans taking at least one summer trip.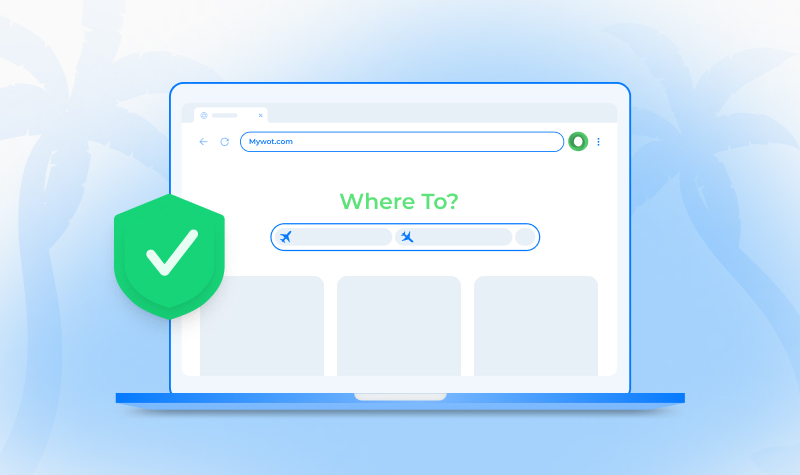 While we are all excited to have some type of normalcy return this Summer, the return of both domestic and international travel is, unfortunately, coming with some red flags attached. Not only will it be a sold-out summer, meaning high demand almost everywhere, but there are actually more scams and swindles out there this year according to Robert Siciliano, a security expert. So while you must be eager to get planning and get traveling, we want to make sure we're doing our part at WOT to keep you booking safely, securely, and avoiding scams for a worry-free summer. Using our site-checker you'll instantly know if a website is a trusted one and whether it's a good idea to enter your personal details and payment information because we have a 2M+ community that actively checks, rates, and ranks sites according to their safety and trustworthiness.
We're exploring some of the most talked about booking sites. What kind of accommodations do they specialize in? What's the overall consensus of using one of these sites? How is their site and organization ranked by the WOT community? Are they trustworthy? Do they have good customer service? We're looking into that and more, and encourage you to always use our site checking feature whether you want to know which booking sites are safe, or if you want to know if some of your, or your family's, favorite sites are safe. All in all, let's travel smarter this summer with WOT.
Starting with the bigger players
Booking.com

has the largest number of search results when it comes to booking not only hotels, but hostels, apartments, guest houses, villas, and all-inclusive resorts. They have listings in over 227 countries and offer competitive price matching when comparing the same stay on other booking sites. In addition, the price you see is the price you pay- there's no hidden fees or taxes. Here's how the WOT community rated booking.com



In addition, Booking.com was scored 91/100 in total trustworthiness and child safety.
Expedia.com

is a classic booking site and platform, having been around for nearly 30 years. While the prices vary on Expedia, you can find hotel rooms, apartments and rental units across their search results. With detailed filters and no hidden pricing, you can easily find what you're looking for with Expedia. Here's how the WOT community views Expedia.



Expedia scored 92/100 on total trustworthiness and child safety.


VRBO

is referred to as the best site for vacation rentals. If you're looking for more amenities during your travels like having a full kitchen and living room area, VRBO is the way to go. They list thousands of homes, vacation rentals, apartments and condos for anyone who wants to travel like a local. While booking with Vrbo might be more costly, it's important to factor in the money you can save with all of the amenities offered to you in your location. Home cooked meals anyone?



They received an overall 89/100 in total trustworthiness and 91/100 in terms of child safety.

Agoda originally started as one of the top hotel booking sites for hotels throughout Asia, but has expanded its reach and expertise worldwide. A unique aspect with Agoda is their 'secret deals' program, which hides the identity of a five-star hotel until your booking is completed because some high-end hotels don't like to showcase their less expensive rooms so openly. With over 2 million properties to choose from, including both hotels, bungalows, private apartments and more, they are highly ranked in the hotel booking world, but what does the WOT community have to say about them?



Agoda received an overall score of 81/100 in terms of trustworthiness and 82/100 in child safety.
Now let's take a look at some of the smaller, yet still popular booking sites
HotelTonight

boasts on having the absolute best last-minute hotel deals in any city, in any country. When it first launched, you were only able to book the same night of your stay, however and luckily for travelers wanting to explore on a whim, you're now able to book further in advance. And Airbnb acquired HotelTonight in 2019 so you have an added layer of hospitality experts. While short on reviews on WOT's

website safety checker

, it has still been rated safe by WOT's community as safe.




Maybe staying at a hotel isn't really our vibe this summer and you want to opt in for a hostel. Operating in over 178 countries,

HostelWorld

is a top resource for travelers and backpackers alike looking for a safe, enjoyable hostel experience. They offer reviews of hostels in terms of security, facilities, services, atmosphere and the value for your money. In addition, reviews can only be posted by a verified traveler that stayed in the specific hostel they're viewing. Is hostelworld.com a safe website? It is!





HostelWorld scored an average score of 89/100 in terms of site trustworthiness and a 91/100 for child safety.

HotelsCombined.com

doesn't actually serve as a place where you can book your stay, but it serves as a type of 'hotel aggregator' that pulls together hotel deals based on your search and needs. However, the price you see in your search, doesn't always match the price of the actual booking page. Meaning, you can't secure your booking with HotelsCombined because they ultimately redirect you to the source of the deal. The WOT community gave HotelsCombined an 82/100 in total trustworthiness and some members of the community had mixed reviews.

You can see what they had to say here

.

We try to always stay unbiased, but when learning more about

lastminute.com

, our final hotel on this list, it proved quite difficult. Lastminute.com offers "amazing travel deals" at – you guessed it – the absolute last minute. They offer both hotel and flight options but according to

Which Cars & Travel

review, lastminute.com had some of the highest prices of hotel deals in 5 different scenarios. So we looked to the WOT community to see what they had to say.


WOT's site-checker and community helps empower us as consumers in understanding where we'll get the most value, and where we can stay the safest online. It allows us to make informed decisions backed by real people. Whether planning a domestic or international trip, or simply wanting to visit a new website you're unsure of, the knowledge of WOT's community is one that can be trusted and should be used.
Want to have WOT as your digital guardian this Summer?
Install our Chrome extension today for free. See you next time!