There's nothing better than learning from experts when it comes to Cybersecurity. Especially as there continues to be new forms of threats and attacks each day. As our technology advances, so do the hackers. According to Security Magazine, ransomware attacks rose by 92% in 2021 and over 75% of targeted cyberattacks started with an email in 2020. In other words, you don't have to be a cybersecurity expert to understand that we are all at risk when it comes to internet safety. It helps though, when you have the experts on your side and part of your social media feed. 
It can be quite difficult to stay educated on the latest threats and trends happening in the cyber world. That's why we've put together the following list of top cybersecurity influencers you should be following to stay in the know of the digital world's latest threats and updates. Take your digital protection a step further and use WOT's Chrome Extension, guaranteed to keep you alert, and safe online all the time.       
Top Cybersecurity Influencers 
Brian Krebs – @briankrebs – 353k followers 
Brian Krebs started his career as a reporter for The Washington Post in 1995 until 2009, publishing more than 1,300 articles for the Security Fix blog. He got his start after he fell victim to a malicious software program that took over his computer- literally. He decided to learn as much as possible on computer and internet safety and created the number one go-to source for all things cybercrime- KrebsOnSecurity.com.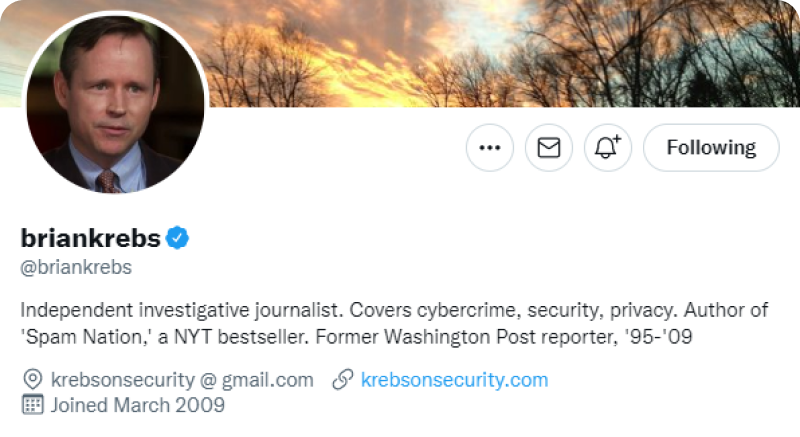 Eva Galperin – @evacide – 178k followers 
Eva Galperin serves as Director of Cybersecurity at the Electronic Frontier Foundation (EFF) and is a technical advisor for the Freedom of the Press Foundation. Having a passion for technology from an early age, Eva has been a major contributor for malware research and free speech. Her tweets are beyond witty, amusing, thought-provoking and most importantly, educational.
thaddeus e. grugq – @thegrugq – 126k followers
thaddeus e. grugq is an anonymous cybersecurity influencer with legendary memes and published work. His blog, The Info Op, serves as both a place and community to learn about cyber attacks and trends around the world, how to combat them, and how to stay alert. His work has been referenced in The New York Times, Washington Post, Wired, and Vice.
Kevin L. Jackson – @kevin_jackson – 79k followers 
Graduating from United States Naval Academy in 1979 with a BS in Aerospace Engineering, and later on a Master of Engineering in Computer Engineering, Kevin Jackson is globally recognized as a cloud computing expert. If his background wasn't impressive as it is, he is also the founder of the GovCloud Network. Having been recognized as a 'Top 100 Cybersecurity Influencer and Brand' by Onalytica and a 'Top 50 Cloud Computing Blogger for IT Integrators' by CRN, Jackson is a great resource for all things tech and cybersecurity.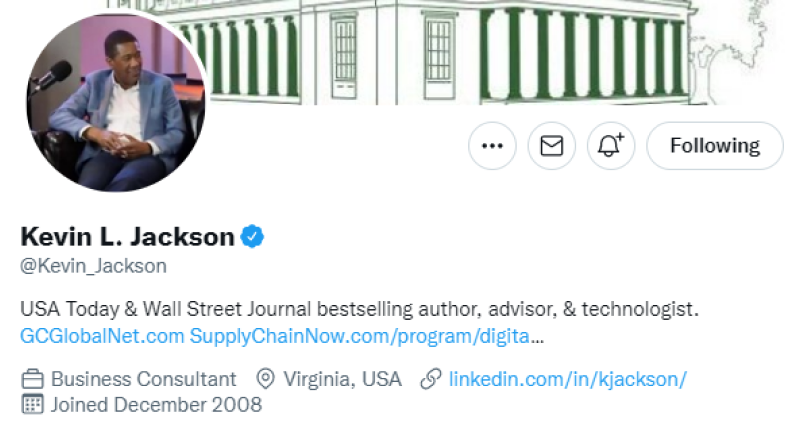 Aleksandra Doniec (hasherezade) – @hasherezade – 70k followers
Aleksandra Doniec, also known as hasherezade, wears many hats in the cyber world. She is a malware analyst, software engineer and consultant based in Poland. Her following continues to grow as she contributes to the cyber community in more ways than one. Her open-source tools are utilized by the developer community consistently and she regularly shares on social media which tools in the development space are dedicated to keeping you safer online. 
*As a note, open-source tools are software tools that are freely available without a commercial license. Many different kinds of open-source tools allow developers and others to do certain things in programming, maintaining technologies or other types of technology tasks.
Katie Moussouris – @k8em0 – 117k followers  
Katie Moussouris is one of the most sought-after industry thought leaders in cyber defense. With 20 years of experience, she founded Luta Security, which utilizes its technology and bug bounties to help secure governments and large organizations. Additionally, she started the first bug bounty programs at both Microsoft and the U.S. Department of Defense. Her background truly makes her an expert in everything cybersecurity, safety, and best practices.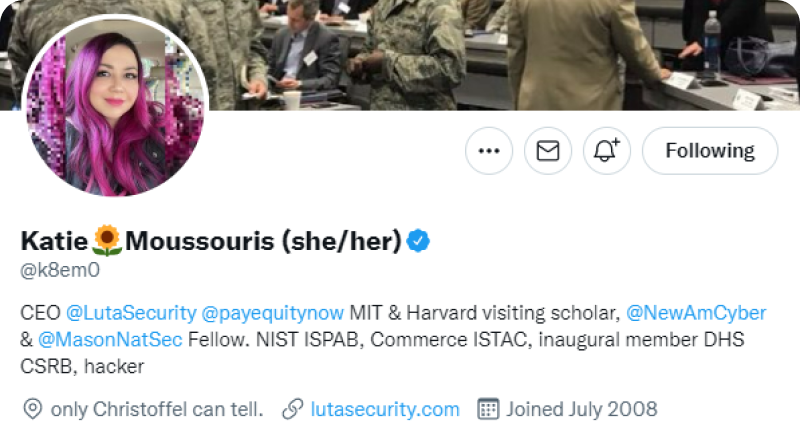 Asher Wolf – @Asher_Wolf – 76k followers
Based in Australia, Asher Wolf is a transparency and information activist and founder of Cryptoparty. She aims to 'create campaigns for digital rights' and has worked with Open Australia to lead campaigns that reform debt-creation. Her knowledge has literally changed the lives of millions. 
Yan Zhu – @bcrypt – 79k followers 
Yan Zhu, current Chief Information Security Officer, has been, and continues to be, a major contributor to open-source projects. She's been recognized as one of Forbes 30 under 30 and was on the EFF team as a technologist expert. Her content covers everything you would want to know about financial scams, data products, mining, and more.
Did we miss anyone you think should be added to this list? Please feel free to let us know! The best way to stay safe and vigilant in the digital world is to stay proactive. Learn what you can about your digital safety and security in ways that aren't overwhelming to you. Follow dedicated cyber influencers, watch informational YouTube channels on the subject, use WOT.